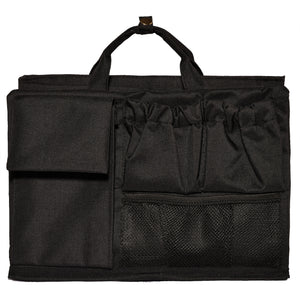 Sample INY bag insert
Sale price Price $27.87 Regular price $70.31 Unit price / per
Free delivery within the Netherlands
Note: At INY store we place great importance to delivering a high quality product to you. Despite our strong supplier relationships we sometimes experience small deviations in our standards. We offer these sample inserts with a large discount to those who want to enjoy our products and who can look past these small production deviations (e.g. dimensions, colour, finishing).
Measurements: W35 x H26 x D8 CM
*Please note that the refund policy does not apply to sample sale products. 
Geweldige organizer
Een geweldige organizer om te gebruiken. Echt zoo zoo blij mee. Alles ordenen in elke tas die je maar wilt. Kan ook heel veel spullen in kwijt en super fijn dat er een verschoonmatje bij zit.
Top!
Fijn dat de bag in meerdere tassen past en niet al te groot is. Voldoende vakjes om alles te ordenen.
Great find for mama, compact and practical!
Good quality, many pockets and nice diaper mat. Fir nicely in every tote bag. Will be nicer to have more size options to choose.
Heel fijn om alles te ordenen in een grote tas!
Great!
Amazing & good quality, very happy with it!